This is one of the most familiar constellations in the night sky, due to it being a zodiac sign and its name is known to signify crab in Latin – it is actually the second dimmest of the zodiacal constellations. Although it is a zodiac-sign assigned constellation, it is a medium-sized constellation with faint stars. 55 Cancri, is one of its well-known stars hosting five planets: a super-earth and four gas giants. The super-earth planet lies in the habitable zone with a temperature close to that of Earth. Praesepe (Messier 44) is located at the center of this constellation and is one of the closest open clusters to Earth.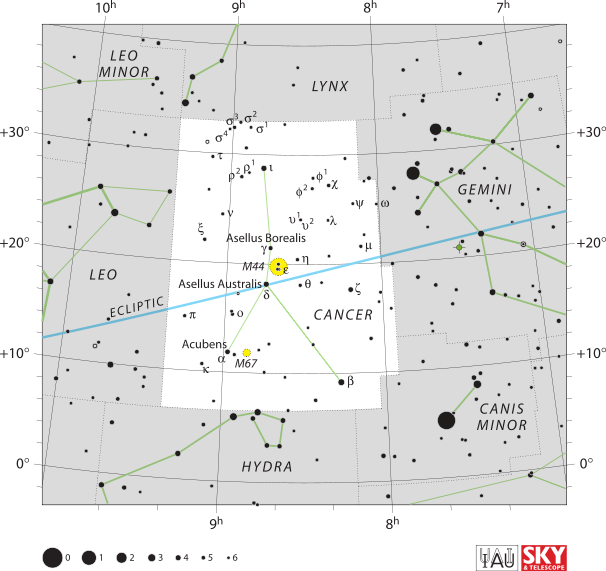 Cancer constellation enjoys a variety of stars. Beta Cancri (Tarf), is the brightest star of Cancer constellation, lying 300 light-years from earth. It is a binary star with a red dwarf companion. Delta Cancri (Asellus Australis) is an orange-hued giant star. X Cancri is the reddest star in the night sky, and Gamma Cancri a white-hued subgiant (A1IV) with apparent magnitude 4.67. Iota Cancri is located 330 light-years away from earth and is a wide, double star. Alpha Cancri (Acubens) is a multiple star system, the same as Zeta Cancri or Tegmine (the shell). Zeta Cancri is known so far to consist of at least four stars (82 light-years from Earth).
There are also a number of stars that host planets in this constellation. Plus the one we mentioned at the beginning, YBP 1194 hosts three planets and is a sunlike star (located in the open cluster M67 which is an open cluster located in Cancer constellation.